SEA Games has witnessed a unique and strange competition. Athletes will transform into "mermaids". They competed in the water with sticks and hockey balls.
This discipline is called Underwater Hockey. It was born in the 1950s. At that time, It helped divers improve their ability to move and effectively perform underwater tasks during the cold winter months. The British Navy used the same way of playing hockey but practiced it underwater to practice.
By 1954, Underwater hockey was also known as "Octopus". It was officially considered a sport after Alan Blake founded Southsea Sub-Aqua's first club in England. From Europe, underwater hockey expanded into Asian and Southeast Asian countries.
Underwater hockey is not for the faint of heart. Athletes wear diving suits, oxygen masks, propellers, hold sticks, move at high speed, jostle underwater to try to win the ball. They beat it so fast that they could take it back to the opponent's goal.
Occasionally, athletes have to rise to the surface to breathe before diving again. Therefore, not only good swim, athletes participating in this subject must be able to dive deep.
In the Philippines, underwater hockey has been played for decades. Therefore, they have brought this sport to the official competition at the SEA Games in the hope of winning gold. Competing with the home team in this competition is Singapore, Indonesia and Malaysia.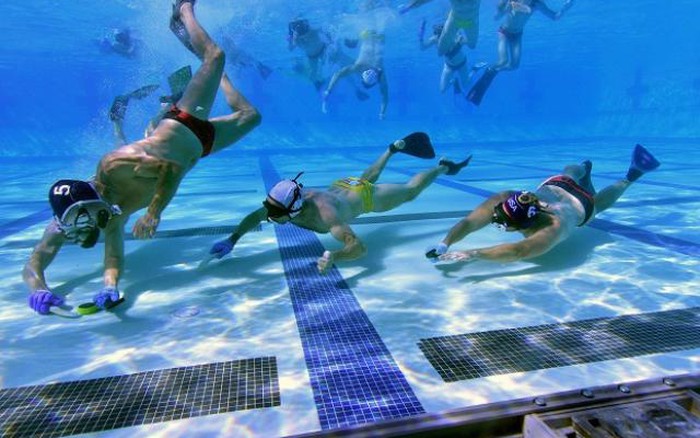 At the SEA Games, host countries are allowed to remove or add to the competition. In the Philippines, there are 4 new sports. In addition to underwater hockey, there are eSports, Sambo – a martial art developed in the former Soviet Union and Kurash – a sport native to Central Asia.
Each playing team usually has 6 players. And each round lasts from 10-20 minutes depending on the rules of the tournament.